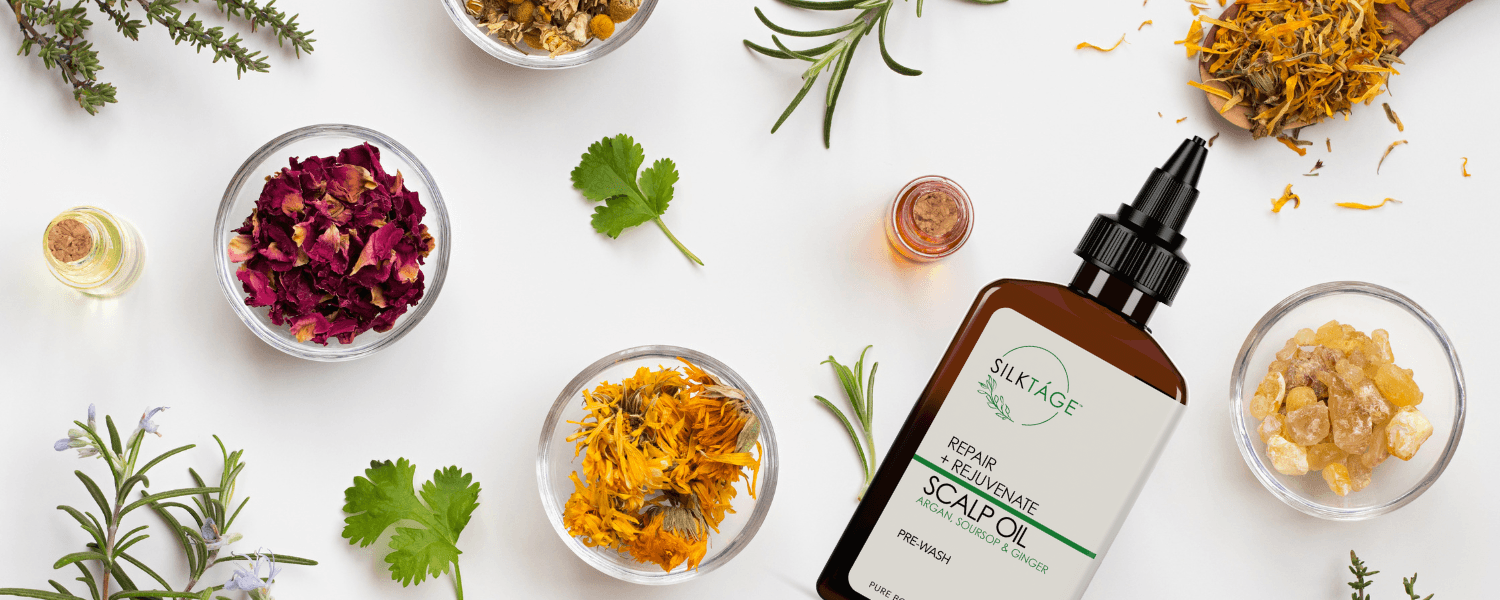 WHAT ARE ESSENTIAL OILS AND WHY ARE THEY ESSENTIAL?
Essential oils are compounds extracted from plants, retaining the plant's scent and flavor through distillation or cold-pressing of their leaves, needles, nuts, stems, flowers, bark, roots, or peels. Essential oils, which give a plant its scent, contain high levels of antifungals, anti-bacterial properties, vitamins, antioxidants, tocopherols, lupeol, phytonutrients, polyphenols, oleic acid, squalene, carotenes, linoleic acid, omega-3, and omega-6 fatty acids.
Essential oils are extremely potent and should never be applied directly to the skin without first diluting them in a botanical (aka "carrier") oil. There are some exceptions; a drop or two of lavender, lemon, or peppermint essential oil can be applied to the skin undiluted. However, tea tree, clove, and rosemary essential oils – to name a few – should not be used undiluted, as their potency can be sensitizing or irritating, or cause a rash. Add a few drops to your favorite carrier oil, your face, or body oil or bath water for an added boost to your skin, hair, and aromatherapy. When used properly, essential oils add miraculous healing benefits to skin, hair, and self-care treatments.
Botanical or "carrier" oils are often called essential oils. Is there a difference?
Although they are both derived from plants, there is a difference. For example, coconut, hemp seed, and argan oils all derive from plants, but they are processed differently than essential oils. They are often edible and can be applied directly to the skin and hair. Botanical oils are extracted from the seeds, leaves, fruit, stems or nuts of a plant by cold-pressing, which (unlike essential oil processing), does not involve steam or heat. Like essential oils, botanical oils contain high levels of vitamins, antioxidants, tocopherols, lupeol, phytonutrients, polyphenols, oleic acid, squalene, carotenes, linoleic acid, omega-3 and omega-6 fatty acids extremely beneficial to healthy skin, hair, nails, and the body in general.
Both essential and botanical oils provide age-defying, rejuvenating and healing benefits, promoting healthy hair growth while adding luster and shine. They also nourish, hydrate and heal dry skin and help slow its aging process. Throughout the ages, they have been used for natural skin and hair care; Queen Nefertiti, Cleopatra, Japan's legendary geishas were known to use a variety of oils, including argan, camellia, olive, frankincense and myrrh.
By using products such as SILKTÁGE that contain both essential and botanical oils, you are protecting, nourishing, and rejuvenating your skin and hair by feeding them with essential nutrients. They are centuries-old and proven ways to achieve natural beauty without the use of chemicals and additives.
Add SILKTÁGE to your skincare to enhance natural beauty and self-care routine for radiance, renewal, and glow!  
Gen X recent interest in clean beauty
As manufacturers promote transparency, clean beauty has become a significant trend, both as an aesthetic and as a product category. Clean beauty refers to goods that are safe, non-toxic, and clearl...
Read more